Sunuva Kids Clothes
With its ingenious patterns and designs, Sunuva combines the best fashion and functionality in its childrenswear collection. Village Kids is pleased to offer you the finest Sunuva products, with a range of clothing and accessories perfect for children who love to play and explore.
To create their intensely vibrant collection, Sunuva takes inspiration from the beauty of nature. From playful dresses to functional shorts and t-shirts, Sunuva's collection will ensure children feel comfortable and confident in their clothes.
Sunuva's designs are perfect for families who love spending time outdoors, whether hiking, camping, or simply enjoying a picnic in the park. The range includes items that are versatile enough to be worn for any outdoor activity, including hats, sandals, and backpacks.
Sunuva uses premium materials to ensure each garment is durable and practical, making them an investment for parents who want their child's clothes to last. 
If you're a fashion-conscious parent who wants their child to look and feel great while they explore the great outdoors, choose Sunuva at Village Kids.
Orange & Pink Patterned Swimsuit
Sunuva
Pink Triangle Frilled Bikini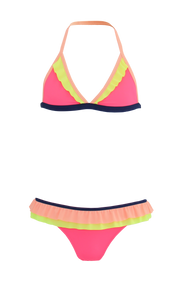 Sunuva