Bimbalo
Fashionable and functional, Bimbalo has provided parents with exquisite designer wear since 1996. Village Kids is proud to house pieces from past and current collections, with precious options available for every occasion. 
Pack your delivery bag full of Bimbalo baby grows so you can take them home in luxury. As they grow, dress them in adorable two-piece knitted sets for Christmas, birthdays and other important occasions. 
Bimbalo's dedication to high-quality craftsmanship is evident in their designs: from embroidered dresses to cashmere sweatpants, your child will feel comfort from a young age. Their designs prioritise safety and practicality, incorporating non-toxic dyes and easy snap closures into their clothing. 
Put the finishing touches on their collection with simple accessories: carry their essentials in a Bimbalo bag, keep them warm in the winter with a cashmere woollen hat or give them a blanket to carry with them through their childhood. 
Knowing your child feels snug is one of the most reassuring feelings: if you're a parent who loves designerwear, Bimbalo will not disappoint. Shop their collection at Village Kids and expect nothing less than luxury craftsmanship and timeless designs.
Cream & Blue Knit Set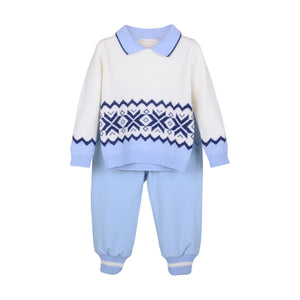 Bimbalo
Blue Pompom Bag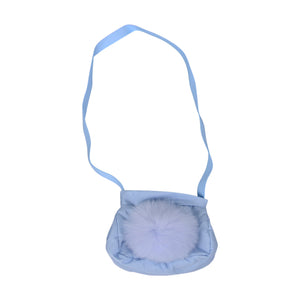 Bimbalo