Karl Lagerfeld Kids Clothes
Established in 1984 in Paris, the Karl Lagerfeld brand encompasses everything we love about Parisian style. Monochrome shades, bold graphics and forward-thinking prints are key motifs across the Lagerfeld childrenswear collection, now available at Village Kids. 
The brand excels at giving each garment a unique, youthful look: piece together minimalistic sweatpants with one of Karl Lagerfeld's statement logo t-shirts. Start your summer days on the right foot in breezy shorts manufactured with soft-on-the-skin fabrics. 
In a pair of Karl Lagerfeld leggings, your little one will run, play and jump to their heart's content. The brand uses premium fabrics capable of weathering even the toughest playtime activities, so you can rest assured that their Lagerfeld garments will stand the test of time. 
As your children grow, so can their collection! Village Kids have made clothes shopping simple by stocking a range of garments for children and teenagers alike. If they're fans of the brand's recognisable DNA, they can rock the look for longer. 
Snap up designer deals without sacrificing style or quality: we offer affordable options from Karl Lagerfeld's classic childrenswear collection. Choose Karl Lagerfeld at Village Kids for contemporary, timeless pieces that never go out of style.
Black & Gold Pin Striped Shorts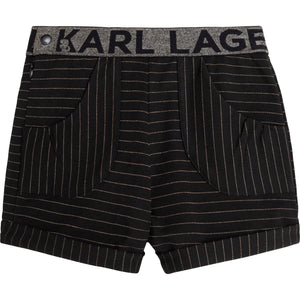 Karl Lagerfeld
Raspberry Pink Karl Leggings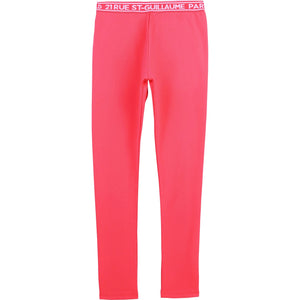 Karl Lagerfeld