Moschino Footwear
If you're shopping for children's designer shoes, it doesn't get much better than Moschino 
footwear. Village Kids is proud to present our Moschino shoes for kids, packed with summer sandals and winter favourites. 
Moschino has become a favourite amongst parents and children who love bold, playful designs. Shop for Moschino's sleek and staple high-top sock trainers, perfect for casual and formal events.
Or, gift your kids a pair of classic Moschino slip-on trainers. Available in several striking colours and patterns, your little one can choose the shoes that best express their individuality. Ideal for a day out with friends or a family gathering, Moschino sneakers are the perfect balance of comfort and style. 
The fashion house has thought of everything, creating sliders with signature teddy-bear motifs. Your son or daughter can waltz around the house in perfectly padded shoes. 
From sleek loafers to classic lace-up shoes, these dress shoes are designed with sophistication in mind and feature the playful Moschino touch.
Whether you're looking for casual or dressy footwear for your little ones, Moschino Kids Footwear has you covered. Shop the Village Kids selection today and discover the perfect pair for your child.
Navy Textured Toy Sliders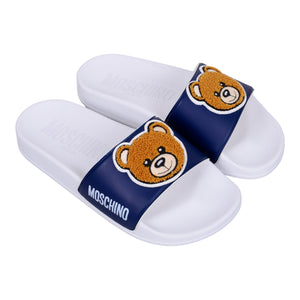 Moschino Footwear
Red Textured Toy Sliders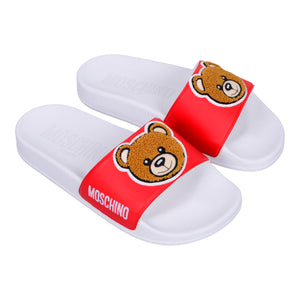 Moschino Footwear